August 26th, 2017 marks the date of the highly anticipated fight between Floyd Mayweather and Conor McGregor. Arguably the best boxer to ever step foot in the ring, will face off against the biggest name in the UFC,  "King of Dublin." Two kings of their respective sports face off for a true spectacle to determine who truly reigns king and to finally end the debate of whether the UFC or Boxing is truly at the top of the totem pole, in regards to combat sports.
"The Biggest Fight Ever"
Neither of these athletes have similar fighting styles. Mayweather refuses to play into his opponent's tactics and remains patient throughout, while on the other hand, McGregor is a wild card in the ring, ready to strike in an instant. The contradicting fighting styles between these two athletes will make for an exciting event at the T-Mobile Arena at the MGM Grand in the Las Vegas. With a pay per view price of $100 per television, and ticket prices skyrocketing to an average price of around $3,500, this is highly regarded as 'the biggest fight ever.'
'Money' Mayweather
Mayweather is regarded as one of the best fighters to ever bless the ring with his presence. His 49-0 record is clear cut proof that he has been a dominant force in the world of fighting for the past 2 decades or so. His experience with boxing since he was a child has helped him become extremely successful at a young age, winning a bronze medal at the 1996 Olympic games in Atlanta. After the 1996 Olympics, Floyd "Money" Mayweather began his illustrious professional career, winning his first career fight in October he showed absolutely no signs of slowing down.
Having a 12-0 record after little over a year of professional fighting, the fighting world finally understood that this man was here to stay. Winning his first championship belt in 1998 as a super featherweight, he continued to defend that championship for 5 fights, retaining his title. Going on to win championship belts in the lightweight, super lightweight, welterweight, middleweight, and light middleweight weight divisions, Floyd Mayweather has absolutely proven to be one of the greatest champions to ever put on the gloves. Although it seems like Floyd should have somewhat of a cakewalk in this fight, going up against a man like  Conor McGregor who has never boxed professionally, the 40 year old Mayweather may have his hands full with Conor's aggressive, contradicting fighting style.
'The Notorious' Conor McGregor
Holding a 21-3 record in the Mixed Martial Arts world with 18 knockouts, Conor McGregor's style as a striker will prove to make things difficult for Floyd. The Southpaw from Dublin, Ireland may not have the same experience that Mayweather does, but what he lacks in experience, he makes up for in his demeanor. Someone that can match Floyd Mayweather word for word at press conferences is as difficult a task as matching him punch for punch. Conor has dominated the UFC in his 10 fights, winning all but one, and has been an absolute force in the Octagon. Knocking out opponents in 18 out of his 21 wins, his ferocious brutality has made him one of the most feared fighters in the entire world.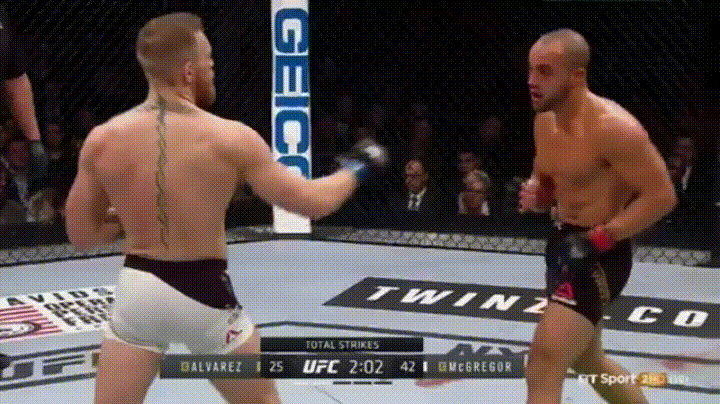 The Beauty of the Fight
The beauty of fighting is that it only takes one punch to win and undoubtedly, Conor has the power to make that happen at any moment in the fight. Floyd's notorious defense will be put to a test when he has to face off against the power punching southpaw of Ireland. This is what makes fighting 'beautiful'. Two opposites attract to put on this spectacle for everybody to view. Two totally different fighting styles, from two totally different backgrounds are meeting up in what might be the most anticipated fight in history. Both Floyd Mayweather and Conor McGregor are absolute magicians at their respected crafts and I couldn't be more excited to watch them in action this Saturday night.